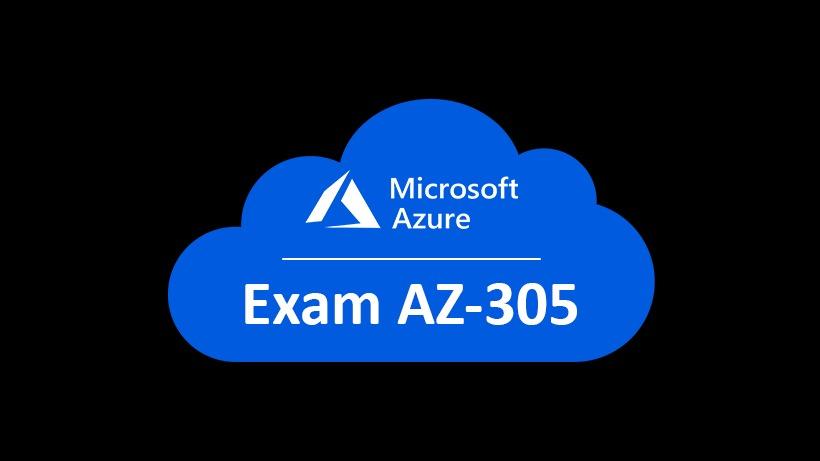 A Comprehensive Guide for People Taking the Microsoft AZ-305 Exam
Read Time:
3 Minute, 49 Second
Aspiring solutions architects can use this Microsoft certification to validate their talents. This certification can also assist them in locating better employment possibilities. 
Azure Solution Architects can learn how to develop infrastructure solutions with the help of the AZ 305 Traning Certification. Applicants for this test should be experts in creating cloud-based and hybrid solutions that run on Microsoft Azure.
Exam AZ-305: Designing Microsoft Azure Infrastructure Solutions:
The vast range of skills and competencies needed to perform this profession is recognized by the Microsoft Certified: Azure Solutions Architect Expert certification. After completing an advanced-level exam, candidates who receive this certification can be glad that their skills have been acknowledged.
A candidate must pass the AZ-305 Developing Microsoft Azure Infrastructure Systems exam to obtain this certification. These are some further details of the exam-
Price: $165
40-60 questions
120-minute time limit (150, including the surveys before and after)
Multiple-choice and case-study questions
Expert experience required
Certificate expiration: Needs annual renewal
This Microsoft certification training can be costly, but it is worth it.
Competencies Needed to Pass The AZ-305 Certification:
The following are examples of the considerable knowledge and experience that candidates must possess in information technology operations:
The candidate's capacity to manage choices that affect the overall solution is crucial.
Understanding virtualization, networking, security, identity, governance, business continuity, data platforms, and disaster recovery.
Candidates should have previous knowledge of DevOps, Azure administration, and Azure development processes.
Candidates appearing for the Azure Solutions Architect Expert certification must have in-depth knowledge of creating cloud-based and hybrid systems that use Microsoft Azure. It covers knowledge of computing, networks, storage, monitoring, and security infrastructure.
The above skills are required to pass Microsoft certification courses, such as the AZ-305 exam.
AZ-305 Designing Microsoft Azure Solutions Test Preparation Tips:
The most crucial need is personal motivation and desire to achieve the AZ-305 certification. If you are working hard towards getting the certificate, your likelihood of passing the test is significantly reduced.
Recognize the abilities that will be examined on the test.
It would be best to evaluate whether your skills and knowledge apply to the exam's subject before registering for it. The Microsoft website has a page for each exam that details which skills will be tested and how to prepare, making it the most straightforward place to find out.
Establish a benchmark for comparison.
As soon as you prepare, take a practice exam to assess what you know. If your first score seems awful, avoid getting too upset. You might need more knowledge to write the answer. Go through your notes again, and then give it another shot.
Plan, execute, monitor, control, and revise to create the best plan possible.
A plan is necessary because it lays the groundwork for attaining your project goals and, eventually, your objectives. Planning, carrying out, monitoring, managing, and updating your approach are all steps in putting a plan for the AZ-304 exam preparation into action.
Be academically prepared.
Learning the topic matter is less important than preparing for the testing procedure. Repeated practice exams aren't usually practical or affordable. As a result, another option is to take the test as a practice run without expecting to pass the first time and then learn what you missed.
There is no penalty if you estimate reasonably! Your score is determined by how many questions you correctly answer; it is not determined by how many answers you guess randomly. If a question utterly stumps you, take a calculated guess by choosing the most extended response.
• Search a Forum to Discuss Solutions.
Connecting with other Microsoft users online might be comforting if you're stuck on a problem or need someone to discuss answers with while studying. The ideal location to post a question or keep up with an interesting topic is on the Microsoft Community website. They are happy to impart what they have learned to others. You can discuss any Microsoft Online Course-related questions on this platform without hesitation. The Microsoft Forum page, on the other hand, is more official and technical.
Follow these tips while preparing for your Microsoft exam to pass with flying colors.
Conclusion
Microsoft has published several examinations, like the AZ-305 exam, to provide candidates with a thorough understanding of aspects of Azure. Your ability to plan, execute, and debug a variety of Azure Solutions, including storage, high availability, and databases, will be evaluated. To succeed on this test, you must prepare well.